CSE is based in Ottawa. We have two locations:
Edward Drake Building (EDB)
1625 Vanier Parkway
The default workplace for CSE employees is one of those two locations. Flexible work arrangements, including telework for a portion of the work week, may be possible.
Edward Drake Building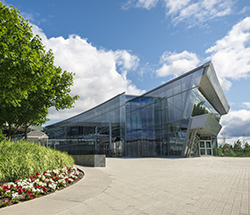 Opened in 2014, EDB exemplifies a 'nature meets technology' feel with its bright and open spaces.
The building was named for Lt. Colonel Edward Drake, a pioneer of Canadian signals intelligence.
This facility includes:
modern, collaborative, and flexible work environment
3,000 sq. m glass wall for natural light
on-site coffee shop
cafeteria, including wood-burning pizza oven
campus-like atmosphere on the patio
conference centre for 400 people
visitors centre with classrooms and event facilities
prayer room
sand volleyball court
basketball court
multipurpose field (Ultimate Frisbee, soccer, flag football)
5 km of groomed walking trails
We are very proud that the EDB is LEED® Gold Certified and is also a recipient of the 2020 BOMA BEST Platinum Certification, an award that recognizes environmental excellence.
Some important green features are:
reflective roof that shields the building from the sun, reducing the need for air conditioning
collected rainwater that is treated and used for flushing toilets
solar array on the roof of the parking garage
1625 Vanier Parkway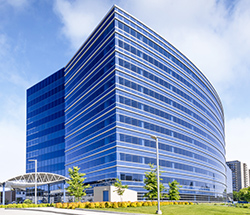 With the launch of the Canadian Centre for Cyber Security in 2018, CSE found it necessary to expand into a second location.
1625 Vanier Parkway allows us to host outside partners for meetings, conferences, learning events and long-term projects.
Employees are equipped with laptops and smart phones, and work most often at an unclassified level.
Highlights of the space include:
sit-stand workstations
comfortable discussion areas
Wi-Fi, including visitor Wi-Fi
kitchen and lounge areas on each floor
on-site fitness facility with cardio and weight machines
reflection room
multi-purpose centre for events and training
proximity to the Rideau River Eastern Pathway multi-use trail
1625 Vanier Parkway is also the home of the Learning Hub, which runs cyber security and communications security training for Government of Canada employees.

Discover CSE's impactful mission

Join our team and help keep Canadians safe

Read how we are held accountable to Canadians