CSE is hiring, come work with us!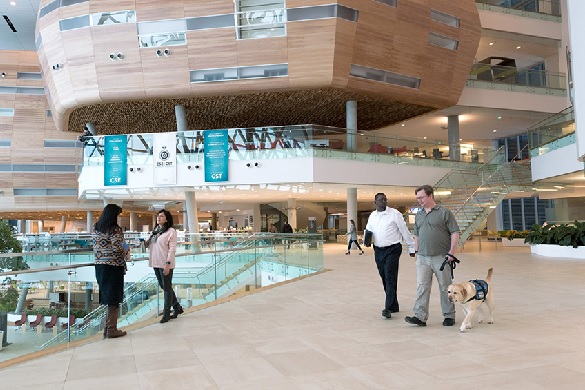 Equity, diversity and inclusion are crucial to CSE's mission of protecting Canada and Canadians. Diversity brings new insights to the problems we face. Inclusion encourages us to bring our whole, authentic selves to work. Equity means removing barriers so that everyone can reach their full potential.
Fostering a culture of equity, diversity and inclusion isn't just an ideal, it's a necessity. It makes us better at our jobs.
CSE is committed to:
building a workforce that reflects the diversity of the country we serve
identifying and removing structural barriers that discriminate against marginalized groups
encouraging open and honest dialogue around racism and discrimination
building inclusion into our policies and practices
working towards reconciliation with Indigenous Peoples across Canada
celebrating every employee for who they are and making sure they feel valued
We're not there yet, but we're taking concrete steps towards that vision.
Here are some of the ways we promote diversity and inclusion
A guide to make CSE a truly inclusive workplace
Diversity and inclusion activities at CSE
Summary of the corporate structures that support diversity and inclusion at CSE
Employee networks focused on diversity and inclusion issues
Stories about diversity and inclusion at CSE
Workforce data and reports tracking diversity and inclusion efforts at CSE
---
Testimonials
"What makes CSE special are the people who work here. I'm proud to be a part of a community and an organization that supports having thoughtful conversations about diversity and inclusion and provides us all with the opportunities to do so and to learn from each other. This is truly a special workplace where we are empowered to broaden our horizons and grow not only professionally, but also as individuals who are better global citizens."
---
"There is much talk today about diversity and inclusion. Personally, I see diversity and inclusion as a mathematical equation. You see diversity by itself is good, but the thing is, that's all you have. You have a range of differences. Inclusion by itself is also good. Everyone has access, but by itself doesn't necessarily include accommodating everyone to get that access. Standing on their own without each other, diversity and inclusion do not contribute to change, however if you add them together you get something, something bigger. You get diversity + inclusion = significance.

As an Algonquin (Metis) person, leaving my hometown and moving to Ottawa as a child, left me feeling no longer significant in the place I left. Living in Ottawa, where we knew no one, confirmed that insignificance right through to my adult years.

I have worked in other government departments through-out my life and at times I felt I was doing some Canadians some good, somewhere, but there is a big difference between feeling good about some work you did and feeling significant within an organization.

At the end of my first week at CSE during the orientation process an employee spoke to us. He worked in a technical field and travelled regularly for work. His words went as such, "You people who work in Finance, Travel, HR, and the Administration areas, thank you. Because of what you do, I don't have to worry about these things, nor does my family. You help those like me to do a better job". "Thank you" he said again. When I left the classroom that day, I felt something I had not felt in a workplace before. I felt significant.

When I walked into my new work area the next day, the feeling was still there. I have always felt proud of the work CSE does and because of those words I heard during orientation, I still feel like I am part of our mission. I have learned to see significance not only in myself but in everyone I have met that works in this organization.

There are people here in CSE who put feet to their words by actively looking for ways to make our recruiting process more inclusive and the implementation of our security process respectful to everyone because they believe in significance for all. I am not saying everything is perfect because we still have things to learn and to do but what I see is effort being made by CSE, building on that equation: diversity + inclusion = significance."
---
"I am proud to work for an agency that encourages, exemplifies and motivates diversity and inclusion at all levels. I've never felt more open and included and am always in awe when I see just how much work we do in this space. We strive to empower all our employees and break down barriers. CSE has done a tremendous job at making people of all backgrounds feel welcome. Our differences are not only openly talked about but celebrated and that is one of the reasons I love working here."

Discover CSE's impactful mission

Join our team and help keep Canadians safe

Read how we are held accountable to Canadians