Call to action on anti-racism, equity and inclusion
In January 2021, the Clerk of the Privy Council issued a Call to Action on Anti-Racism, Equity, and Inclusion in the Federal Public Service.
The Clerk directed public service leaders to report back on what their organizations were doing to tackle racism and bring about systemic change.
CSE's letter to the Clerk from August 2021 outlines our first steps in response to the Call to Action.
For an ongoing view of our actions and plans see One CSE: A Framework for Equity Diversity and Inclusion.
Employment equity
CSE is committed to building a workforce that reflects the diversity of the country we serve. To aid in our efforts, we collect employment equity data which helps us identify and address gaps in representation. All information gathered is voluntarily disclosed by our employees via the Self-Identification Questionnaire.
CSE's currently available data shows that diversity is slowly increasing at CSE (see table below for 4-year trends up to 2020). However, racialized individuals, Indigenous people and persons with disabilities remain underrepresented relative to their availability in the workforce. CSE is actively working to improve in these areas, as well as to increase the representation of women in STEM roles.
Employment equity representation at CSE 2017 to 2020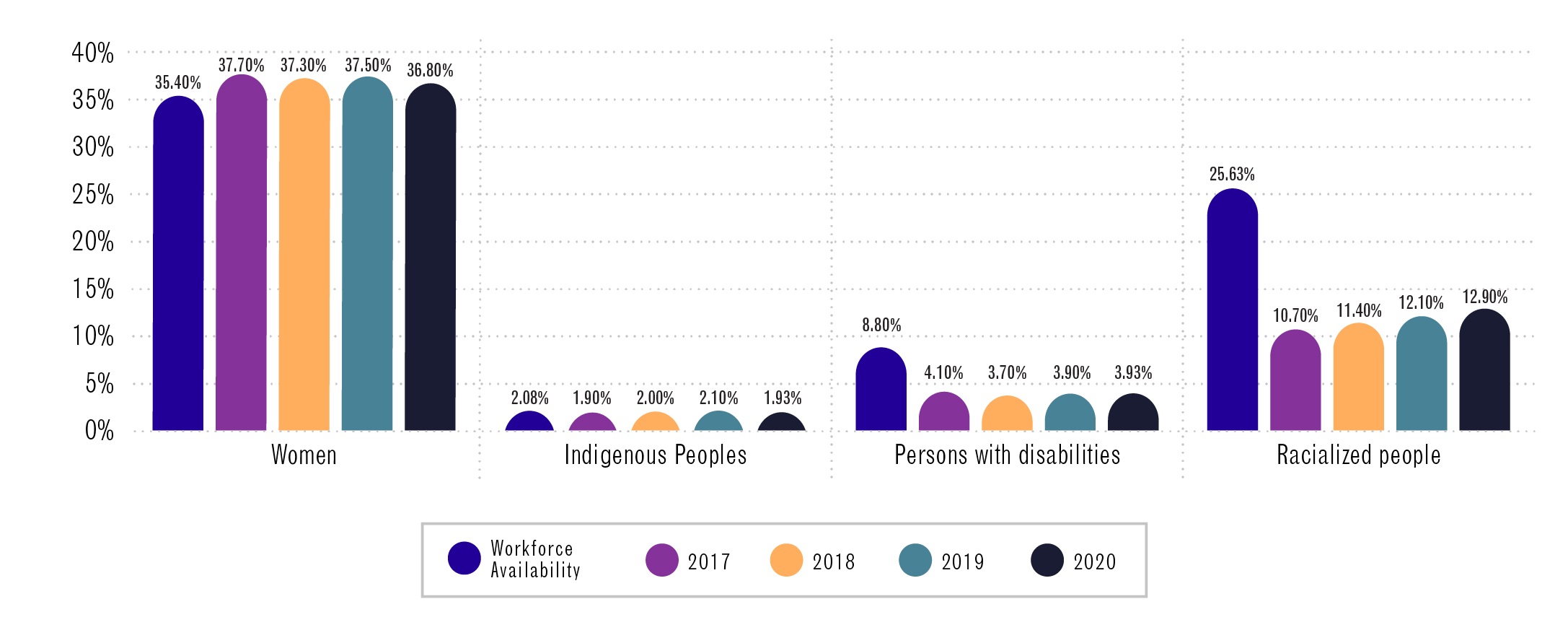 Long description - Employment equity representation at CSE 2017 to 2020

Chart showing that racialized people and persons with disabilities are significantly underrepresented at CSE compared to their workforce availability and Indigenous Peoples are slightly underrepresented. The percentage of women employed at CSE is slightly higher than their workforce availability.

| | Workforce availability | 2017 | 2018 | 2019 | 2020 |
| --- | --- | --- | --- | --- | --- |
| Women | 35.40% | 37.70% | 37.30% | 37.50% | 36.80% |
| Indigenous Peoples | 2.08% | 1.90% | 2% | 2.10% | 1.93% |
| Persons with disabilities | 8.80% | 4.10% | 3.70% | 3.90% | 3.93% |
| Racialized people | 25.63% | 10.70% | 11.40% | 12.10% | 12.90% |
It's important to note that members of a designated group may have reservations about self-identifying. As such, the data in these reports may underrepresent the diversity of our community. CSE is working with affinity groups to address concerns around self-identification. More accurate data will improve our ability to determine where structural barriers exist and how we can do better.

Discover CSE's impactful mission

Join our team and help keep Canadians safe

Read how we are held accountable to Canadians