The Tutte Institute for Mathematics and Computing (TIMC) is a government research institute focused on fundamental mathematics and computer science. Its mission is to deliver research results with an impact on the most important scientific challenges facing the Canadian and Five Eyes security and intelligence communities.
The TIMC's key research areas are cryptography and data science. It draws upon many mathematical and computational fields, including algebra, algebraic geometry, combinatorics, data science, topology, number theory, and quantum computing.
History
The TIMC is named after Dr. William T. Tutte, a British-born Canadian codebreaker and mathematician, credited with breaking the Lorenz cipher used by the German High command during World War II. A member of the Order of Canada, Dr. Tutte's foundational work in graph theory and matroid theory is world-renowned.
Work
A large portion of the TIMC's work is classified, however, when possible, results are released to the academic and open-source communities. Visit the TIMC GitHub page to view the releases. TIMC's tools have been integrated into many other packages and platforms, including GPU implementations in NVIDIA Rapids and HypernetX.
For more details on the work of individual researchers at TIMC, visit their Government of Canada scientist profiles.
Opportunities
The TIMC offers a range of opportunities for employment and collaboration, as well as a variety of mechanisms to support mathematics and computer science research in Canada.
Strategic researchers
We employ full-time research staff holding PhDs in a variety of fields related to mathematics. Interested in finding out more? Please contact TIMC by email at tutte.info@cse-cst.gc.ca.
Research consultants
We welcome mathematicians, data scientists and computer scientists from Canadian universities (or those at international institutions holding Canadian citizenship) for short-term or long-term working visits to the TIMC. We count many distinguished Canadian mathematicians from many Canadian universities as our current collaborators and alumni.
Visiting researchers work in a collaborative environment on challenging problems, engaging with TIMC research staff, other academic visitors and members of partner research institutes.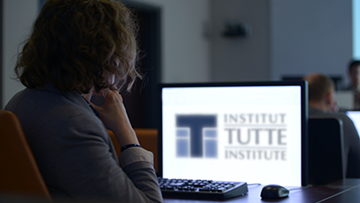 Join our team and help keep Canadians safe

Read how we are held accountable to Canadians

Learn how we support our employees and our community