CSE values a diverse and inclusive workforce, which improves and strengthens our mission.
By incorporating diverse world views, experiences, and perspectives, we bring new insight to existing problems.
In support of Pride Month and the LGBTQ2+ community, we interviewed Artur Wilczynski, CSE's Associate Deputy Chief for Signals Intelligence (SIGINT), and Assistant Deputy Minister and Senior Advisor for People, Equity, Diversity, and Inclusion.
Artur was generous enough to share his views on what makes CSE a strong and agile agency within the national security and intelligence community, and why diversity and inclusion are important values that help make our organization better.
Why is diversity important for a security and intelligence agency like CSE?
Analysis and insight are at the heart of intelligence. A workforce with a diversity of experiences, backgrounds, and identities ensures we see a problem from multiple perspectives. Our work is strengthened by diverse teams that approach an issue from multiple points of view.
Whether the challenges are technical, analytical, or interpersonal, an employee population with diverse backgrounds, educational, life experiences, and identities, can contribute to creative and agile solutions.
Also, a diverse workforce is interesting and dynamic. It enables us to learn more about each other and grow as a team.
What does CSE do to foster inclusion in its workplace?
Our efforts cut across many activities, but for CSE inclusion starts with a workplace vision that has people at its core. This vision, this commitment to equity, diversity, and inclusion, is sustained by CSE's senior leadership who work hard to break down barriers.
Colleagues at all levels of CSE are remarkable leaders. They share personal experiences about being Black in Canada, work together to build inclusive spaces for neurodiverse colleagues, and actively break down barriers for transgender or non-binary persons. People work every day on inclusion.
We talk about difficult subjects in many forums. We address issues directly in online chat forums for diversity and inclusion. We use other tools, such as the "It's Not Okay" posters on display throughout out building, which are part of an internal campaign to raise awareness and provide practical guidance to employees. Similar to other government departments and agencies, we have policies to address discrimination and harassment. CSE's in-house Counselling and Advisory Program also does important work in supporting employees at all levels, which further contributes to a supportive and inclusive environment.
Is there more work to be done?
Yes. There is always more work to be done as we continue to grow and evolve as an organization. This is why our Chief created the People Committee as part of our internal governance structure. This committee and its supporting advisory working group, as well as many other employee-organized equity and affinity groups that work with and provide advice to senior leadership, aim to make CSE a more inclusive place.
Groups such as EmbRACE, Women in Cyber and Intelligence, and neurodiverse and LGBTQ2+ communities, create a safe space to talk and give input, which shape our policies and practices to make CSE even more inclusive.
How have you kept this up while most of your employees are working from home?
Ongoing engagement with the full diversity of our organization has been important, maybe even more so, throughout the pandemic.
Online communications tools have been essential to allowing us to participate in regular conversations and virtual discussion forums. We've established dedicated channels on diversity and inclusion, where employees continue to come together every day to discuss, debate, and find ways to move forward on these important issues.
For example, CSE's LGBTQ2+ community and allies have held several virtual coffee chats that have been well received.
As an intelligence agency, we have employees who have remained at work within the Edward Drake Building throughout the pandemic. For them, we have also kept up the conversations on our classified systems to make sure those employees who have had to work onsite are included as well.
What activities does CSE partake in – internally or externally – for Pride Month or related to the LGBTQ2+ community?
Ottawa and CSE are in a unique position. Most of Canada celebrates Pride Month in June, and while CSE does recognize June as Pride Month, all the city-related activities, like Ottawa's Pride Parade, take place in August. This is in recognition of the first gay rights protest at Parliament Hill, which took place on August 28, 1971.
In addition, CSE commemorates the International Day Against Homophobia, Transphobia and Biphobia (IDAHOTB). This year, we held a special learning event with Pride at Work and the Canadian Centre for Gender and Sexual Diversity, to address discrimination based on gender identity and gender expression. We have also been encouraging all staff through an "Add Your Pronouns" initiative.
We also work with our Canadian security and intelligence community (S&I), and our Five Eyes partners to share experiences and practices aimed at fostering inclusion for LGBTQ2+ persons.
While it has been two years since we walked in the Pride Parade as part of the S&I community, last year we painted an "Inclusive Moose" in Pride colours. This year we have a Pride Bike Ride planned, and we will also be refreshing our Pride and Transgender person-themed crosswalks (as we do every year) among other activities.
Are there any special initiatives in place to highlight CSE's diversity and inclusion practices outside of Pride Month?
Educational events happen all year round. We delivered a presentation in collaboration with the organizations Pride at Work and The Canadian Centre for Gender and Sexual Diversity (CCGSD).
CSE also has presence at the Ottawa Pride Parade, which takes place in August of each year (outside of the pandemic). We typically march with other members of the Government of Canada, as well as the Defense and Intelligence community.
I also host monthly coffee chats with CSE employees to discuss diversity and inclusion, community activities, and topics of the day.
Why do we have a rainbow moose?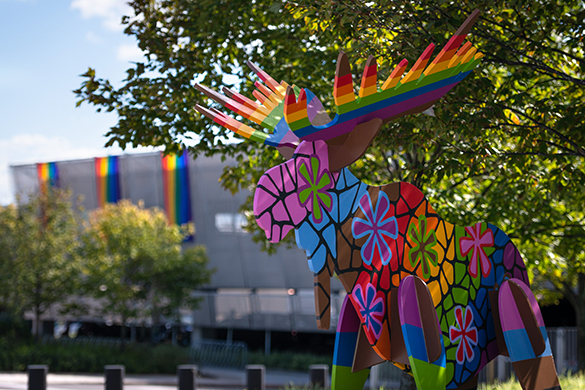 This was our Chief's idea and it was brilliant. It was an opportunity to bring colleagues together to paint a Canadian icon in inclusive Pride colours.
A moose is a powerful symbol of Canada. It stands tall and proud.
It was painted for Pride 2020 and it usually inhabits the big open spaces of the Edward Drake Building. It is brought back outside the building for all to see in May to coincide with IDAHOTB and remains throughout the Pride Season.